EROTIC SEX ART, SEXY PAINTINGS, EROTIC PAINTINGS, CANVAS ART PRINTS
Enlarge image
Blue Hand
Size 18'x26'
Order here
Enlarge image
Back door fucking
Size 18'x22'
Order here
Enlarge image
Climbing up your valley
Size 18'x24'
Order here
Enlarge image
Domination in bed
Size 18'x24'
Order here
Enlarge image
Eternal Bj
Size 18'x24'
Order here
Enlarge image
Girl fantasy
Size 18'x24'
Order here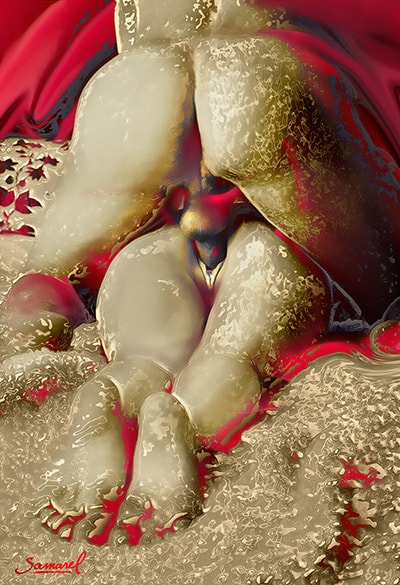 Enlarge image
Golden Ass
Size 18'x24'
Order here
Enlarge image
Golden blue fuck
Size 24'x24'
Order here
Fixed price canvas print
Free Shipping!
Enlarge image
in your face
Size 18'x24'
Order here
Enlarge image
Licking your balls
Size 18'x24'
Order here
Enlarge image
Licking your pussy
Size 18'x24'
Order here
Enlarge image
Oral love for her
Size 18'x24'
Order here
Fixed price canvas print
Free Shipping!
EROTIC SEX ART, SEXY PAINTINGS, EROTIC PAINTINGS, CANVAS PRINTS
Behind my back you tie my hands
Ankles unbound so i may stand
Bent over your lap your hand falls fast
A bad girl I've been...this spanking will last.
​
Hands that lovingly caress my fevered skin
Hot flesh that slowly teases before sliding in
Mouth that drinks sweetly first from my lips
On the way up to my dusty pink erect tips.
​
I will pleasure you with just my words of touch...And all the while i want you as much...To my knees, i will stare at my king... As i will savor, all of your flavor...
​
Never taking your eyes off me,
I will drive your body to insanity...
With every suck and every lick,
It pleases you when i choke on it...
​
Flickers of passion courses through my blood....Desire reaches a crescendo, releasing its flood....Strong arms that hold me tightly as we all join as one.
​
You move me in places that were hidden and stored....You make me want to throw all caution to the wind....You make me happy to be your personal whore!
​
Shall I swell and submit
To your strong naked hands
Your reaching and beseeching
Through the mind
I am losing...
​
Twist me
Take me
Bind my flesh
Your endless
Pricking want
​
I want to make you burn for me
I want to feel your hunger grow
I want to make you ache for me
Whenever you are all alone.
​
Pull from me the lust
My aching loins
your perfect mouth
Taste my life by your
Wicked lashing tongue
​
I want to pin you to the bed
I want to drive you wild
I want to dive deep inside
And ride you through the night.
​
You make me scream with passion
You make me bare my mind, body and soul
You make me realize I can't get enough
You make me want to be your personal slut.
​
Erotic Art Sale - The erotic art of Samarel on canvas prints for your bedroom - Sale price

Erotic prints for your bedroom - Sale price